Things to Look for When Looking for Family Accommodation Hotels in Rameshwaram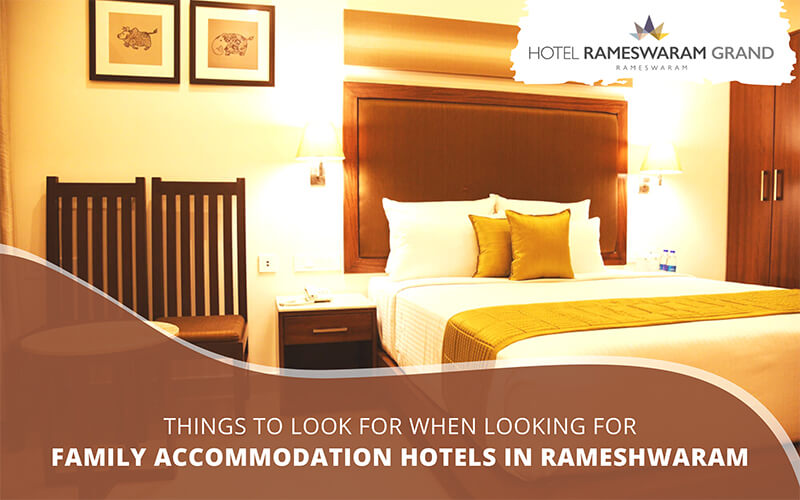 When choosing a hotel in a busy city like Rameshwaram, location is one of the most critical factors. The centrally located family accommodation hotels in Rameshwaram offer you the liberty to move around freely and provide easy access to many sights and attractions a few minutes from your hotel.
To ensure that your stay in Rameshwaram is comfortable, accessible, and cost-effective, we have listed down 4 factors to consider during your hotel booking.
1. Location
If you are on a leisure trip to Rameshwaram with your family, make sure that the hotel is located in proximity to all the main attractions, especially the Rameshwaram temple. The temple is open for the morning Brahma muhurta abhiskem and darshans from 5 am to 6 am, which is considered auspicious. As devotees, if you and your family wish to offer your prayers during the Brahma muhurta, then your hotel location will be of utmost importance. Hotel Rameswaram Grand offers family rooms in Rameshwaram and is close to the temple and the beach, making it easy to plan your visit to all tourist places and make the most of your holiday.
2. Accessibility
The city of Rameshwaram in Tamil Nadu stays connected to the mainland through Pamban Bridge. Though the city is a place for every travel enthusiast, choosing accommodation hotels in Rameshwaram near tourist attractions is essential. The easy access saves not only your time but also makes your time with your family more enjoyable. Book your stay at Hotel Rameswaram Grand, one of the cost-effective accommodation hotels in Rameshwaram near the beach. It is close to the main bus stand and the Rameshwaram Railway Station. The accessibility allows you to indulge in water sports in Rameshwaram. From kayaking and jet skiing to snorkelling and enjoying a glass boat ride at Pamban bridge, a hotel near Rameshwaram temple is a great way to enjoy all these and more.
3. Climate
As a family, you may travel to Rameshwaram during your kid's summer holidays. Rameshwaram has hot summers where temperatures range between 27 and 40 degrees Celsius. Though the morning, evening, and night temperatures are pleasant enough, the afternoons can be a bit sunny. The city always stays brimmed with devotees visiting the Rameshwaram temple; hence, most places are crowded for sightseeing and challenging to reach. It is, therefore, better to book your accommodation hotels near a temple in Rameshwaram. Hotel Rameswaram Grand is not only a stone's throw away from the temple but also the beach to cool off during the hot summers.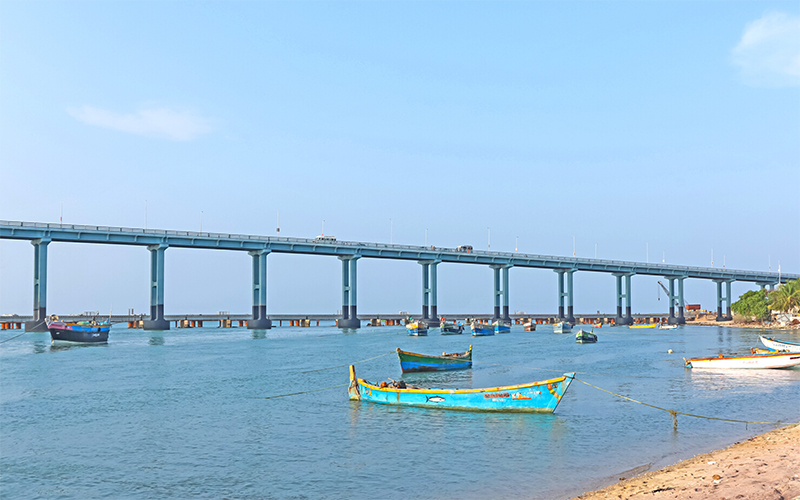 4. Amenities
As one of the most important pilgrimage sites, Rameshwaram is an essential destination for a Hindu devotee and a city that always welcomes its visitors with open arms. Access all the major attractions, from temples and beaches to day trips, by booking hotels in Rameshwaram that offer amenities to make your stay and travel smooth. Whether it's a trip to Dhanushkodi, Adams Bridge, or Kothandaramaswamy temple, the professional management at Hotel Rameshwaram Grand provides all the necessary services to make your trip comfortable.
The Ramanathaswamy Temple is the most visited of the major attractions in Rameshwaram. Therefore, when looking for family accommodation hotels in Rameshwaram, make sure you search for hotels near Rameshwaram Temple. Hotel Rameswaram Grand is easily accessible only 3-minutes away from the temple.
Call 8825466315 if you plan to visit Rameshwaram and are searching for hotels in Rameshwaram near the temple. Visit us!