3 Tips to Ensure a Comfortable Stay in Rameshwaram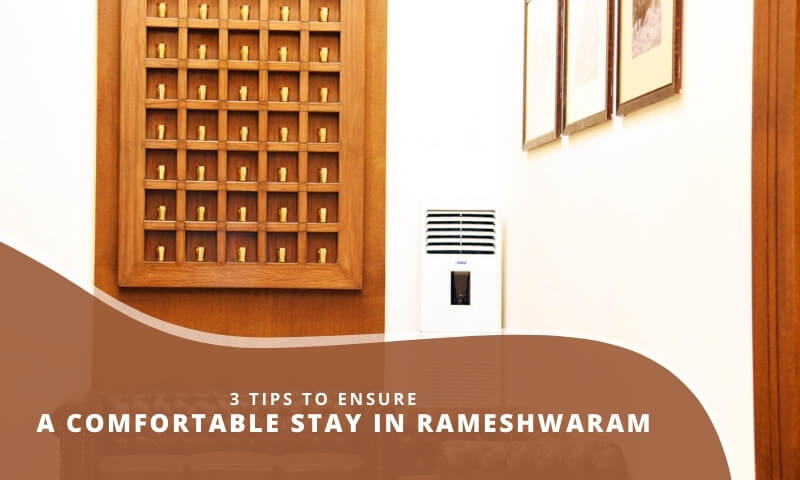 There are plenty of reasons to visit Rameshwaram. It is not only a holy site for Hindus but offers plenty of reasons for nature and history lovers to visit this island city. If you are planning a visit to our town and need help to make your stay in Rameshwaram comfortable, read on:
1. When is the Best Time to Visit Rameshwaram?
To make your stay in Rameshwaram comfortable, we suggest you visit us from October to February when the weather is cool and ideal for sightseeing. It's also the time when thousands of migratory birds like flamingos and pelicans visit the many water tanks in the region. December-January is the best time to experience Arudhra Dharshanam, a celebration that commemorates the cosmic dance of Lord Nataraja.
The monsoon season is from July to September and not ideal for sightseeing because of the humidity. While the temperature ranges from 28-degree Celsius to 35-degrees Celsius, the humidity is around 80%, leaving you tired and exhausted. If you're here in July, don't miss the 17-day Thirukalyanam to commemorate the marriage between Ramanathaswamy and Goddess Parvarthavardhini.
Summer lasts from late March to June when the temperature ranges from 32-degree Celsius to 40-degree Celsius. Being a tropical climate, the weather is hot and sunny. If you don't mind the heat, visit the Ramanathaswamy Temple in May to witness the 10-day Vasanthotsavam festival.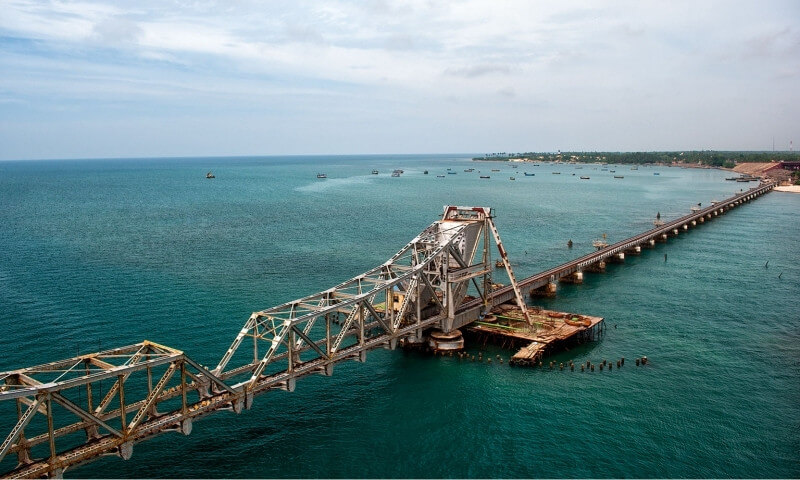 2. Where to Stay in Rameshwaram?
Depending on your interests, there are plenty of places to stay in Rameshwaram. For instance, if you're on a short trip to the temple but would like to add a few other attractions to your itinerary, consider booking at The Rameswaram Grand. We are just opposite the Rameshwaram Railway Station and 3 minutes away from the main bus stand and the Ranganathaswamy Temple. Dhanuskodi is a mere 19km away from our hotel – we can arrange a private taxi or offer guidance about using public transport to reach the place.
But if you've set your eyes on enjoying the different water sports activities, you must choose hotels close to Kathadi and Sangumal beaches. While the latter beach is just 13 minutes away from Hotel Rameswaram Grand, it could take up to an hour to reach Kathadi.
3. What to Pack and What to Wear in Rameshwaram?
Irrespective of the weather, we suggest you wear light cotton clothes and carry plenty of sun protection, viz. sunscreen, hat, and sunglasses. And don't forget enough mosquito repellent creams because the tropical weather makes it an ideal breeding ground for mosquitoes. Don't forget to carry enough water bottles as the weather is likely to make you dehydrated. Dress modestly when visiting the temples, possibly avoiding short dresses, shorts, jeans, crop tops, etc.
When you're sightseeing, remember to carry wet wipes, dry tissues, an umbrella, and a hand sanitizer.
Call us at 8825466315 if you're looking for luxury hotels in Rameshwaram. We offer world-class amenities and en-suite facilities, promising a memorable experience.