Don't Miss These Unique Places Around Rameshwaram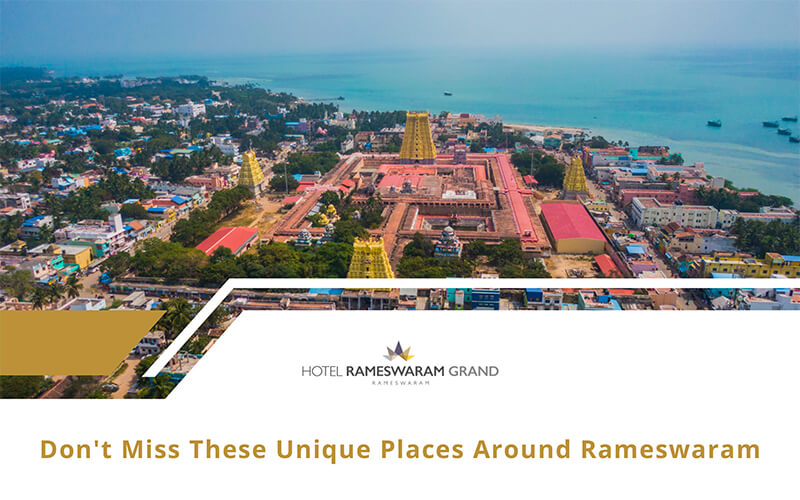 Rameshwaram is one of the holiest places for Hindus, holding a huge significance in the Ramayana. The shiva linga in the Ramanathaswamy Temple is believed to have been consecrated by Lord Rama to seek the blessings of Lord Shiva before visiting Sri Lanka to rescue Sita. Every year, millions of tourists from around the world visit the Ramanathaswamy Temple as a part of their Char Dham Yatra. At Hotel Rameswaram Grand, we happily welcome thousands of tourists looking for the best 3-star hotels in Rameshwaram near the temple. But the temple and Dhanushkodi aren't the only attractions in this island town.
Rameshwaram is well connected by rail with trains running from major cities. But the best way to travel to the island is by road. You can visit plenty of tourist attractions on the way, making your journey memorable. We list a few for you:
1. Alagar Kovil
The best place to start your Rameshwaram trip is from Madurai after visiting the Meenakshi Amman Temple. Alagar Kovil is 20km from Madurai and can be reached in half an hour. The village is famous for the Kallazhagar Temple, built around the 6th to 9th century AD. It is dedicated to Lord Vishnu and is associated with multiple Tamil scriptures. The temple is believed to have been built by Vishwakarma, with the deity worshipped by Yama, who requested Vishnu to stay in Alagar Kovil.
Some notable places in this route include:
Paramakudi – Sri Sundararaja Temple
Devipatnam – Navapashana Navagraha Temple
Thirupullani – Adi Jagannatha Temple
2. Karaikudi
If you are traveling from the Sivaganga district and exploring Chettinadu culture, stop at Karaikudi for a quick tour of Chettinadu. The Chettinadu region has a unique culture, comprising the Sivaganga district and even extending slightly up to the Pudukottai district. The area is home to Nattukotai Chettiyars, a business community traveling all the way to Burma, Sri Lanka, Singapore, and Malaysia for trade.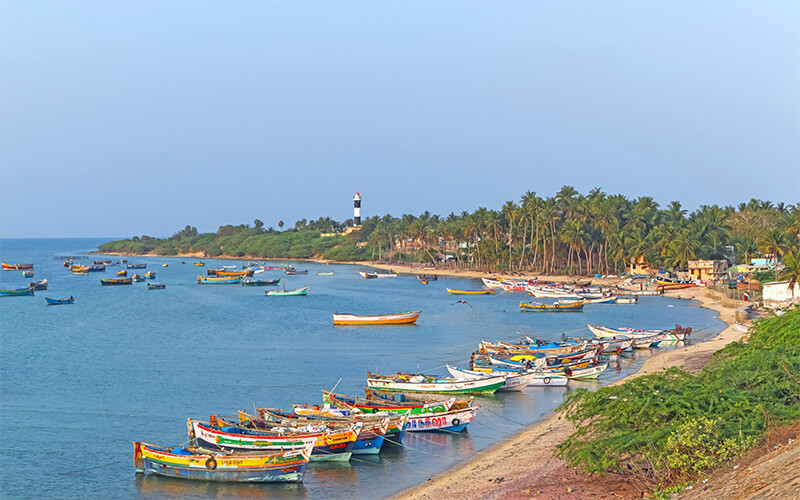 Karaikudi is home to palatial homes built by these Chettiars exhibiting exquisite craftsmanship, including the Kanadukathan Palace, Athangudi Palace, VVR Mansion, etc. In Athangudi, you must visit a tile factory where craftsmen specialize in eco-friendly handmade tiles using raw materials like rice husks and mineral oxides. The Karaikudi antique market is equally famous and full of rare and unique artifacts collected from abandoned Chettinadu homes. And don't forget to sample some exquisite Chettinadu food.
3. Pillayarpatti
From Karaikudi, head towards Pillayarpatti to visit the Karpaga Vinayagar Temple. The temple is one of the oldest rock-cut cave temples in Tamil Nadu. In fact, the village gets its name from the temple's main deity, i.e., Lord Ganesha. The temple was believed to have been built by early Pandya rulers over 1000 years ago. Also, some believe that the temple was earlier dedicated to Lord Shiva but later became known as a Ganesha temple over time.
The temple is famous for its 6-foot rock-cut pillayar idol – unlike other temples where Lord Ganesha appears with two hands, here, the deity appears with four hands.
4. Pamban Bridge
Pamban Bridge, or the Annai Indira Gandhi Road Bridge, spans over 2.3km and is the first sea bridge to be constructed in India. It was built parallel to the rail bridge of the same name. Locals believe that Lord Rama threw an arrow at the ground in Pamban to draw groundwater to quench Goddess Sita's thirst. While traveling by car, don't miss the sight of trains passing through the rail bridge that runs parallel to the road bridge. You can also visit Pamban Beach or take a glass boat ride to catch a glimpse of the mesmerizing corals and other marine life.
Some of the other significant stops on this route include:
Ramanathapuram – Ramnad Palace
Devakottai – Sri Meenakshi Sundareswarar (Sekkizhar) Temple
Mandapam – Mandapam Beach
No matter which route you take, don't forget to sample some great seafood at one of the many seafood restaurants in Rameshwaram.
And if you are looking for affordable accommodations in Rameshwaram, visit us. We are one of the best 3-star hotels in Rameshwaram near the temple and other local attractions. Call us at 8825466315 to learn more about our facilities and other amenities.