Six Famous Things You Must Buy in Rameshwaram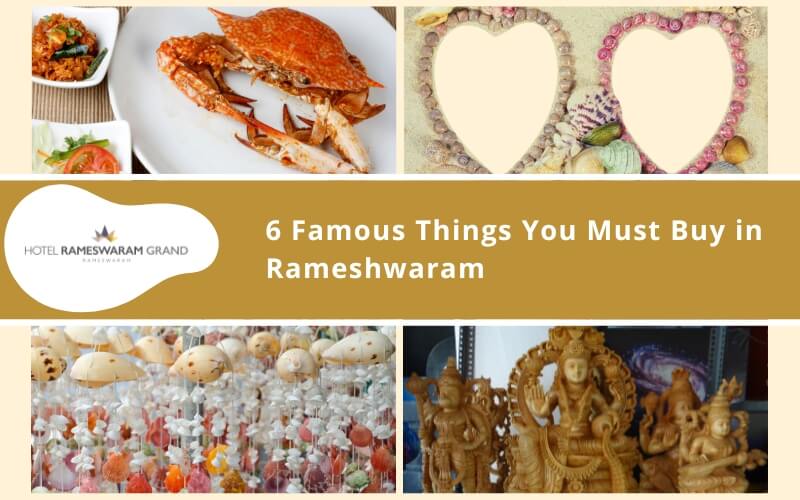 Millions of tourists visit Rameshwaram every year as a part of the Char Dham yatra to seek the blessings of Lord Shiva at the Ramanathaswamy Temple. But the temple isn't the only attraction here. The town is renowned for its diverse range of shops and markets, where you can shop for souvenirs, handicrafts, and traditional items. Read on if you plan to buy these items and are looking for popular shopping places in Rameshwaram.
Religious Items
Handcrafted statues of deities, bronze artifacts, stone sculptures, hand-chiseled art plates, rudraksha malas, tulsi malas, pooja articles, incense sticks and holders, books on religion and spirituality, brass lamps, etc., are some of the favorite things in Rameshwaram you must not miss. Some places you'll find them include Agni Theertham and West Car Street.
Handicrafts Made Using Seashell
Rameshwaram being a coastal city is naturally famous for seashell products. You can buy everything you can imagine at Rameshwaram shopping markets, from conches, seashell mirrors, and chandeliers. You can purchase cheap seashell keychains, pen holders, shell lamps, shell hair accessories, wall hangers, curtains, and other decorative items made using seashells. The best place to buy them is the Gandhi Seashell Mart. You can also look around for them on the many streets around Ramanathaswamy Temple. The Kalam Seashell Mart is also a popular choice for buying seashell crafts. Some of the vendors in Agni Theertham even offer to etch your name on the seashell.
Famous Food in Rameshwaram
The road to Rameshwaram is filled with street stops selling fresh fish. You can buy fish curry, fried fish, and other delicacies. If you're a fan of dried fish, don't miss buying them from the local fishermen. But if you are in the mood to experiment, you must try prawn biryani, kothu parotta, idiyappam and curry, and fresh filter coffee in the best restaurants in Rameshwaram. Not to mention the various delicacies found within the temple as prasadam.Being a spiritual place, Rameshwaram is equally famous for its vegetarian lunch homes selling authentic vegetarian food.
Silk Saris
Plenty of shops in and around Rameshwaram sell silk sarees and other silk materials. The sarees are made using delicate silk threads carrying intricate designs. But silk sarees are expensive, so you'll need a bigger budget to buy authentic silk. If you're looking for the finest quality silk merchandise, you must visit Varthakan Street.
Spatika Lingam
Rameshwaram is known for its Spatika Lingam, a crystal lingam representing Lord Shiva temple, which is famous in Rameshwaram. These lingams are carved out of pure quartz crystal and are considered sacred. You can find different sizes of Spatika Lingams in local shops.
Panchmukhi Hanuman Idols
Panchmukhi Hanuman is a form of Lord Hanuman with five faces, and Rameshwaram is associated with this deity. You can find beautifully crafted idols or paintings of Panchmukhi Hanuman in local shops.
If you are looking for hotels in Rameshwaram offering affordable accommodation, visit us. At Hotel Rameswaram Grand, we promise beautifully furnished rooms and customized service.