What is Famous in Rameshwaram?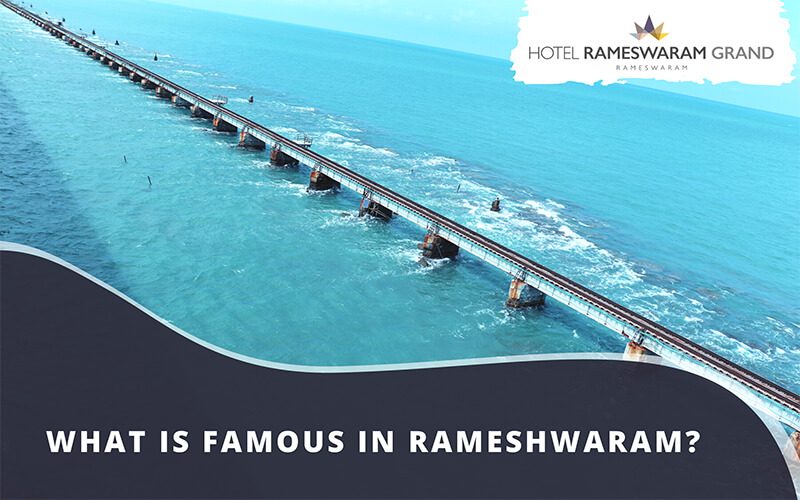 What is Famous in Rameshwaram?
Rameshwaram is a top tourist destination in South India and an island separated from mainland India. It is a part of the Ramanathapuram district and is famous for its legendary temples, beaches, and other historical sites. The Pamban Channel connects the Pamban Islands to mainland India. If you're wondering what is famous in Rameshwaram, read on to explore.
1. Ramanathaswamy Temple
One of the Char Dhams (four abodes), Rameshwaram, is considered a holy place by devout Hindus. The other three dhams include Dwaraka, Badrinath, and Puri; visiting the Ramanathaswamy Temple in Rameshwaram is said to complete the holy Char Dham yatra.
The temple is devoted to Lord Shiva and is visited by pilgrims from all over India. The 12 jyotirlingas are very famous here, along with the 64 holy theerthams of the temple. Interestingly, the temple has a corridor with 1,212 pillars that converge at a single dot when looked at from the other end. The temple is an architectural wonder admired by art and architecture lovers and spiritual Hindus.
If you're planning to visit the Ramanathaswamy temple, plan your stay at the best hotels in Rameshwaram. Visit us!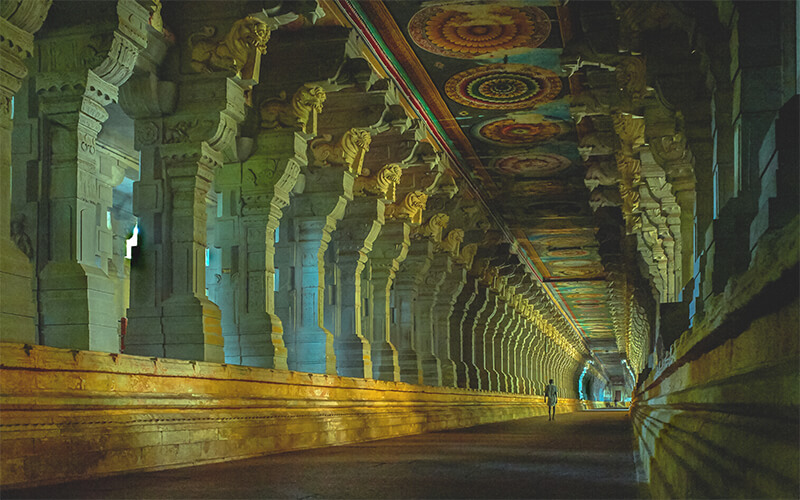 2. Dhanushkodi
Dhanushkodi lies on the southern tip of Rameshwaram town and is only 24 km away from Sri Lanka. You can see Sri Lanka from Arichal Munai, the end of Dhanushkodi, through a telescope if the weather is right. This place also holds geographical and spiritual significance because of Ram Setu (Adam's bridge), a series of limestone shoals connecting Rameshwaram and Sri Lanka. It is believed that Lord Rama built this bridge to travel to Sri Lanka to rescue his wife from Ravana.
You can explore Dhanushkodi while visiting Arichal Munai. This ghost town was abandoned and destroyed by heavy cyclones in 1964. Apart from the legend, the picturesque view of the sea at the tip of Dhanushkodi is worth visiting in your lifetime. You can also enjoy a dip on the beach and even get a chance to witness fishing.
Are you searching for accommodation in Rameshwaram to explore some great places in this little town? Book your stay at one of the best dining restaurants in Rameshwaram.
3. Kalam National Memorial
Dr. APJ Abdul Kalam was our former president, scientist, and leader. Everyone admired him and wanted to meet him at least once in his lifetime. The Dr. APJ Abdul Kalam Memorial was built to commemorate his achievements by portraying his life story through his life-sized statues and everyday things he had used, like clothes, slippers, etc. To all those who looked at him as an idol, this memorial is a great place to experience and celebrate his life. Moreover, the National Memorial is built with beautiful architecture amidst greenery and is well-maintained for the public. The Kalam National Memorial is one of the best places to visit near Rameshwaram hotels.
4. Pamban Bridge and the Annai Indira Gandhi Road Bridge
The famous Pamban Bridge connects the mainland of Ramanathapuram district to the island town of Rameshwaram. The railway bridge was built in 1914 and is one of India's first sea bridges. The central part of the bride was designed by German engineer Scherzer and bolstered by E Sreedharan after the 1964 cyclone. The road bridge was built to run parallel to the railway bridge in1988 and was inaugurated by former Prime Minister Shri Rajiv Gandhi.
As you travel through the bridge, an evening visit to this place offers a stunning view of the railway bridge as the blue seas on both sides glitter during the sunset. This bridge is just perfect to end your trip to Rameshwaram.
I hope this blog helped you plan your one-day visit to Rameshwaram and explore the top 4 places. Book your stay at one of the best hotels in Rameshwaram – Hotel Rameswaram Grand. The hotel has one of the best amenities like no other in Rameshwaram. Book your rooms online or call us at +91 88254 66315.