Sea World Aquarium in Rameshwaram: A Fascinating Dive Into the Marine World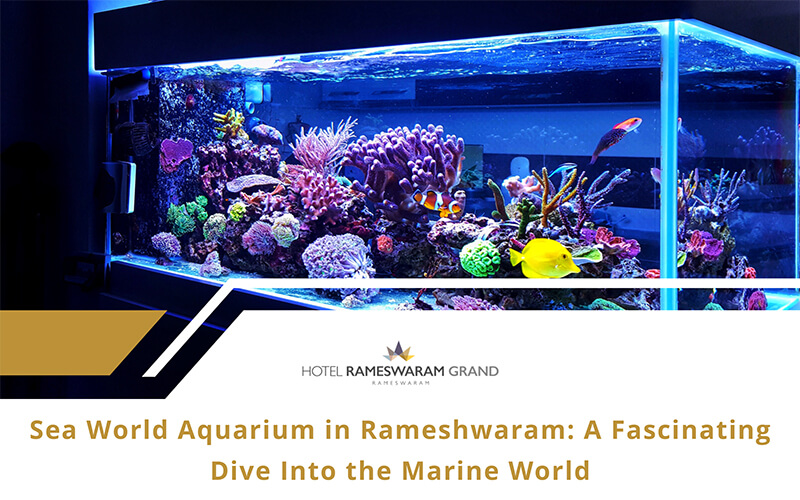 The Sea World Aquarium in Rameshwaram is a popular attraction, hosting a variety of exotic marine life. This world-class aquarium offers a unique opportunity to immerse in the beauty and diversity of the underwater world. If you love marine life, this place will surely be your paradise.
About the sea world aquarium in Rameshwaram
The sea world aquarium is located inside the campus of The Mandapam Regional Centre of Central Marine Fisheries Research Institute (CMFRI). The aquarium was founded and set up by the CMFRI, one of India's most important marine research centers. With such diverse marine life, Rameshwaram is the perfect place for CMFRI.
The sea world aquarium in Rameshwaram is home to a wide variety of marine life, including hundreds of different species of fish, sea turtles, starfish, sea anemones, crabs, octopuses, squid, jellyfish, and coral reefs.
What Are the Different Fishes on Display at the Aquarium?
The sea world aquarium hosts 1100 species of fish, 180 corals, 152 sponges, 220 crabs and hermit crabs, 200 tube-dwelling worms, 125 prawns, stomatopods, and 370 sea shells.
Here is a list of rare species of marine life present at the sea world aquarium:
Clownfish
Lobster
Underwater Coral Wall Fuji
White-spotted Eagle Ray
Whale Shark
Pufferfish Between Stones
Red Caribbean Reef Squid
Green Sea Turtle
Sea Horse
Anemone Fish
Benthos
Blue-spotted Stingray
Yellow Cowfish
Lionfish
Prawn & Shrimp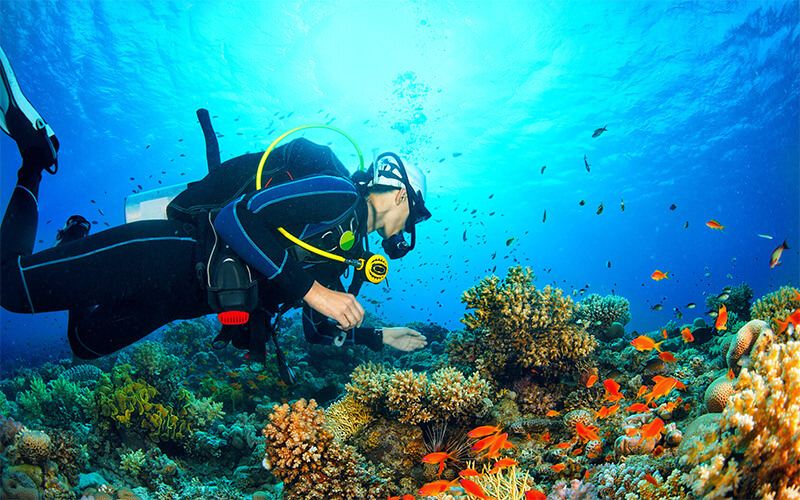 What's So Special About the Sea World Aquarium?
One of the highlights of the Sea World Aquarium in Rameshwaram is its state-of-the-art marine life displays. Each exhibit is carefully designed to offer the natural habitat of the animals on display. For example, the fish tanks are lit and temperature controlled to provide the perfect environment for the fish that call it home.
It is a huge opportunity for visitors as they can observe these fascinating creatures up close that cannot be experienced anywhere. The aquarium is designed to provide a comfortable and educational experience for visitors of all ages.
Other Unique Features Inside the Sea World Aquarium
In addition to the marine life displays, the aquarium also offers a variety of educational programs and activities. Visitors can participate in guided tours, watch interactive shows, and attend workshops and lectures on marine biology and conservation. These programs are designed to give visitors a deeper understanding and appreciation of the marine world.
Where is the Sea World Aquarium Located?
Sea World Aquarium is located near Mandapam, just 7 km from the Mandapam Railway Station. In fact, the aquarium is just a short distance from the ocean, providing visitors with the opportunity to experience the beauty of the marine world and the local beach.
Sea World Aquarium in Rameshawaram – Timings and Entry fees
You can visit the sea world aquarium from 10 am to 12.30 pm and 2 pm to 4 pm. There is no entry fee to visit the aquarium. The aquarium will be closed every Sunday and second Saturday. Make sure to plan accordingly.
Plan Your Visit and Accommodation
Whether you are a marine enthusiast or someone who loves exploring the underwater world, the Sea World Aquarium is sure to leave a lasting impression. So, if you are looking for an exciting and educational day trip, add the Sea World Aquarium in Rameshwaram to your to-do list. You can plan your stay at Hotel Rameswaram Grand, offering the best in-town facilities. From cozy rooms to perfect management and service, we're one of the best hotels in Rameshwaram, offering comfortable rooms to stay in with your friends and family. Book your rooms online here or visit us or call us at +91 88254 66315.