Gandhamana Parvatham: Lesser Known Places in Rameshwaram to Explore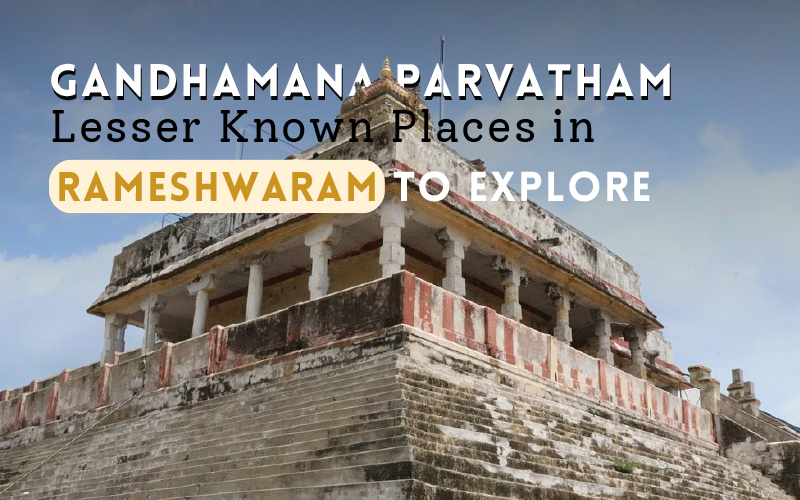 Rameshwaram is one of the Char Dhams and a popular destination for spiritual Hindus. But the Ramanathaswamy Temple isn't the only attraction in the island city. There are plenty of other lesser-known places that are equally historic and interesting. Read on to learn more about one such place, the Gandhamana Parvatham.
Where Is The Gandhamana Parvatham?
Gandhamana Parvatham, also called Ramar Patham or Rama's Footprints, on GP Road, is around 2.5 km from the Ramanathaswamy Temple and around 3km from our hotel. Some of the other attractions on the way include Sugreevar Theertham and Jambhavan Theertham. It is also the highest point in Rameshwaram, offering an aerial view of the island. People also come here to enjoy the serene sunset and sunrise.
Gandhamana Parvatham History
There are several myths associated with the mountain. It is believed that the Gandhamana Parvatham is a part of the Sanjeevani mountains brought by Hanuman to save Laxmana. The Gandhamana Parvatham primarily attracts devotees who visit the place to witness Rama's footprints carved on a chakra or sacred wheel. There are several myths associated with the place. While some believe that Lord Rama met Vibhishana, Ravana's younger brother, at this spot, others believe that it is at this spot that Hanuman told Lord Rama that he spotted Goddess Sita in Sri Lanka.
Gandhamana Parvatham Timings
The temple is open on all days from 7:00 a.m. to 1:00 p.m. and from 3:00 p.m. to 6:00 p.m. in the evening. We suggest you avoid weekends to avoid the rush. It is also crowded early morning and evening, with people queuing up to watch the sunrise and sunset.
Hotels Near Gandhamana Parvatham
If you are looking for hotels in Rameshwaram that are close to the main attractions, visit Hotel Rameshwaram Grand. We promise quality accommodation at the best price. We are the only 3-star hotel in Rameshwaram offering 5-star service.
Visit us at Hotel Rameswaram Grand to find our prime location in Rameswaram for an exceptional stay experience.