Explore the Krusadai Island in Rameshwaram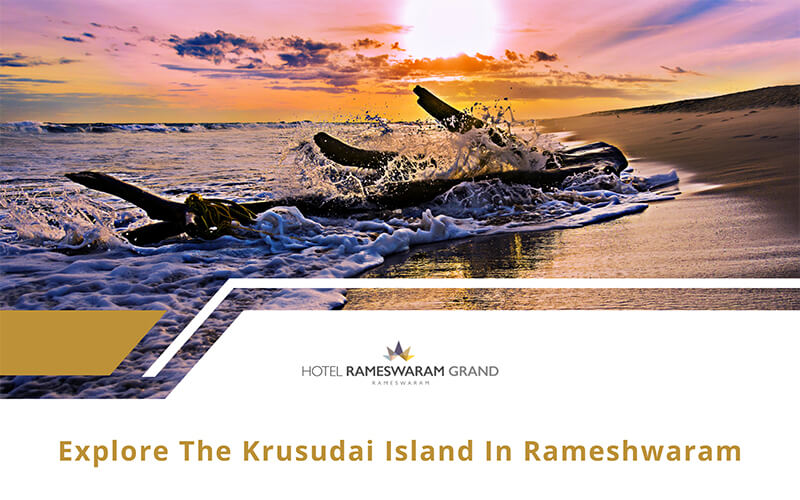 Krusadai Island in Rameshwaram is a hidden gem less explored by tourists. People visiting Rameshwaram only explore popular tourist attractions like the Ramanathaswamy temple and the Pamban bridge. While the island has been a protected marine area for many years, the forest department has recently opened it to tourists. Read on to learn why this place must be added to your itinerary.
Where is Krusadai Island in Rameshwaram?
The Krusadai island is one of the many small islands located in the Gulf of Mannar, a shallow bay on the Laccadive Sea. The island is situated at a distance of 13 km from the main city of Rameshwaram, where the Ramanathaswamy temple is located. It was only in 2022 that the Tamilnadu Government opened the island to the public to promote Krusadai Island tourism and educate people about its rich biodiversity.
How to Reach Krusadai Island?
You must first reach Kunthakal beach, a coast off Kunthukal village. Here you can find the Krusadai Island community-based Eco-Tourism office, where you must get permission and tickets to visit the island. The office is near the Vivekananda Memorial House and Marine Museum on Kunthakal beach. You will take a boat ride from the jetty point to Krusadai Island.
Top Attractions at Krusadai Island
1. Boating
The first boat ride from Kunthakal beach to Krusadai island offers one of the best boating experiences. The seawater and clear beach sand resemble more of Maldives to visitors. In fact, Krusadai Island boating is the top attraction here.
2. Coral Reef
The region in and around Krusadai island is home to rare species of coral reefs. You can see coral reefs closely thanks to the island's shallow and clear waters. Due to this reason, big ships are restricted from entering this region, and it is a strictly protected marine area.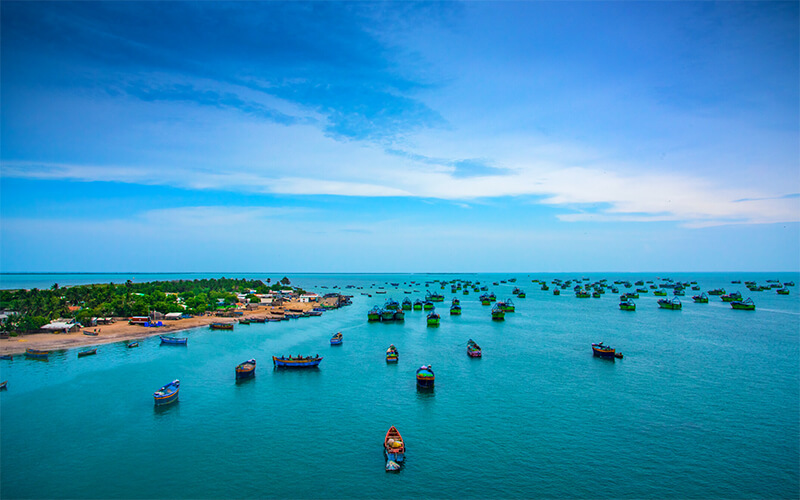 3. Marine Life
Krusadai Island in Rameshwaram hosts a wide variety of flora and fauna, including coral species, crabs, fishes, sea cows (Dugong), and sea turtles. Some of the notable species include clownfish, parrotfish, and sea anemones. If you're lucky, you can see dolphins and sea cows.
4. Birdwatching
Krusadai island is considered a birdwatcher's paradise since it is home to over 150 bird species. Some birds found on Krusadai island are Indian Peafowl, Rock Dove, Black Drongo, and more.
5. Mangrove Forest
Interestingly, Krusadai island also has a mangrove forest with multiple varieties of mangroves. Seagrasses, seaweeds, coral reefs, and sea cucumbers are common species here.
6. Clear Waters
Due to the shallow depths at the beach, you can see through the clear waters and walk over it. This is due to the area being protected from pollutants.
Entry Tickets and Permission for Krusadai Island
You can pay a ticket fare of Rs. 400 (which might be subject to change) to the Eco-Tourism department and acquire special permission from the Department of the Director of Fisheries. A guide will accompany you on the boat and take you sightseeing on the island.
Krusadai Island Timings
You can visit Krusadai Island between 7 AM and 2 PM. However, the timings might change owing to weather conditions.
Planning Your Stay at Rameshwaram
Krusadai Island is just 13 km from the main city of Rameshwaram, where you can plan your stay. Hotel Rameswaram Grand is one of the best hotels in Rameshwaram and is perfect for family and friends. The hotel is well-equipped with all the amenities. Plan your stay at Hotel Rameswaram Grand if you are visiting Krusadai Island. Book your rooms now. Visit us or call us at +91 88254 66315.