The Pamban Bridge – An Architectural Marvel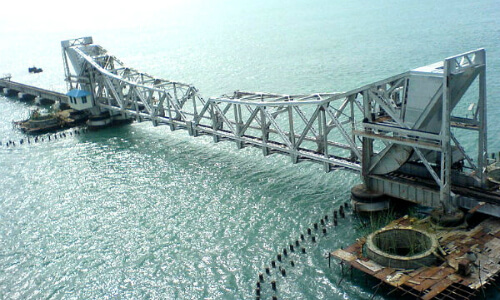 Until the Bandra Worli Sealink was built in 2010, the Pamban Bridge was India's longest sea bridge spanning a stretch of 2 kilometres.

It took around 14 years for the bridge to be completed; until 1988, it was the only link to mainland India when the government built the Pamban Road Bridge.
It is India's cantilever bridge – the double-leaf bascule section of the bridge was designed by a German engineer, Scherzer. In fact, the rolling lift mechanism is now called the Scherzer rolling lift. This mechanism is functional until this day with nearly 1 to 15 boats passing every day!
The 1964 cyclone that claimed the entire Dhanushkodi village damaged almost all of the bridge's metal structures, girders, and RCC, and two of the 141 piers. But, the Scherzer's span withstood nature's fury – it was left intact!
It took a team of Indian railway engineers to put the bridge back to working conditions in just 5 months! Similarly, when the Indian Railways decided to convert this line into a broad gauge, it was the idea of our Late President Shri Abdul Kalam and a team of IIT engineers that led to successful conversion. Without his intervention, we would have to rebuild the bridge at a cost of Rs. 700 crore!
Not many people know that the Pamban Bridge is the world's second most corrosive bridge after Florida, making it one of the most challenging bridges to maintain.