What is the Best Season to Visit and Explore Rameshwaram?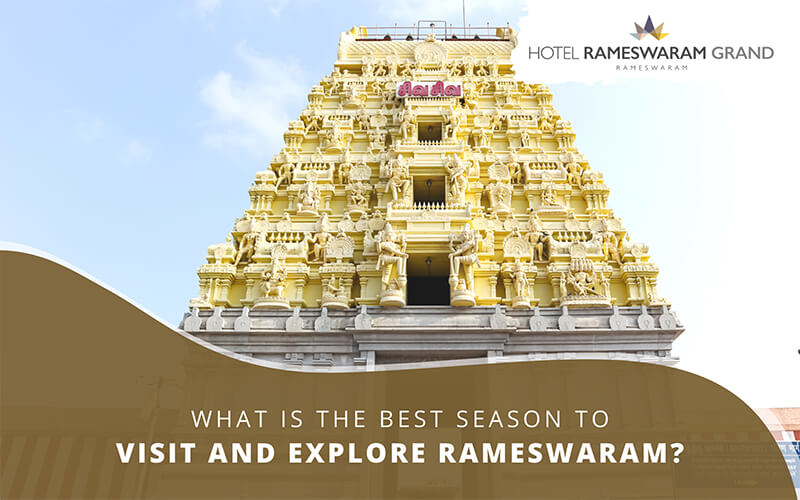 South India's little island town, Rameshwaram, is a part of the Ramanathapuram district in Tamilnadu. Rameshwaram has loads of history dating back to the age of Ramayana. The Ram Setu (Rama's Bridge or Adam's Bridge), located at the tip of Dhanushkodi, was believed to have been constructed by Sri Rama and his army of monkeys to rescue Sita from Ravana. If you're curious about the best season to visit Rameshwaram, read in detail about the best season, places to visit, and more.
Which is the Best Season to Visit Rameshwaram?
Rameshwaram experiences the same weather throughout the year due to its tropical climate. However, the best season to visit Rameshwaram is from October to March. Pilgrims, tourists, and locals prefer the onset of winter since this season is best for sightseeing. Monsoon season is equally beautiful here, offering a serene view of the beaches and other places.
Top Places to Visit in Rameshwaram
1. Ramanathaswamy Temple
The Ramanthaswamy Temple is a gem of Rameshwaram, which many tourists from across India visit. This temple is devoted to Lord Shiva. It is believed that Lord Rama worshipped here to relieve himself from Brahmahathi Dosham (a curse that befalls people who kill a brahmin) for killing Ravana, a brahmin.
The Ramanathaswamy Temple is situated near Rameshwaram beach. People take a dip in the Agnitheertham before entering the temple. It is the only theertham that's outside the temple. Moreover, the 22 wells inside the temple are considered holy and believed to cleanse your sins.
The temple architecture is equally astonishing, especially the outer corridor with 1,212 pillars that merge in a single dot when seen from one end. The Ramanathaswamy temple has beautiful interiors with statues and intricately carved pillars.
The Ramanathaswamy temple is a must-visit place for everyone who visits Rameshwaram. If you're planning your stay in comfortable and affordable hotels in Rameshwaram, book your rooms at Hotel Rameswaram Grand.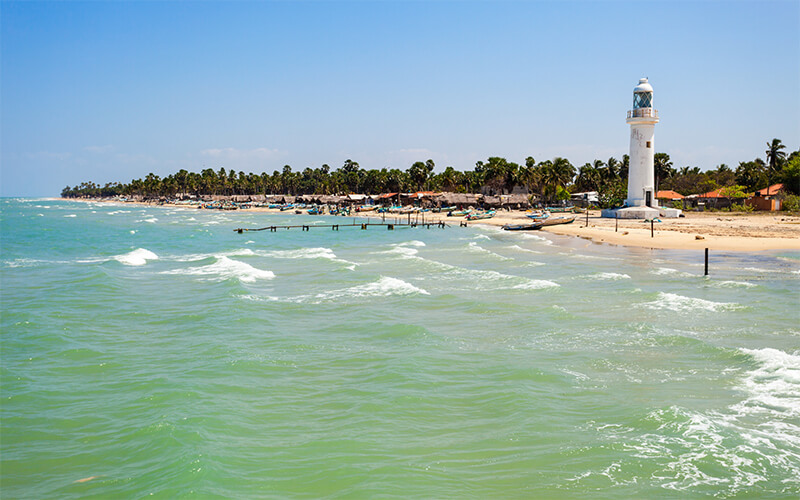 2. Dhanushkodi
Dhanushkodi has situated 20 km from Rameshwaram railway station. People lived in this quaint little village until the 1964 cyclone when everything was destroyed. Over time, this place began to be called Ghost town. People today visit the village to witness the ruins of churches and houses. The town holds a historical significance and amazes people.
You can then visit the Arichal Munai, the end of Dhanushkodi village. This is the place where the Ram Setu begins and connects Sri Lanka. Enjoy the tranquil sea waters on three sides standing at the tip of Arichal Munai.
Dhanushkodi is indeed one of the top places to visit in Rameshwaram and the best time to visit is in the morning and evening.
3. Water Sports in Rameshwaram
If you're an adventure lover, you will love Rameshwaram. Sangumall has located 4 km from the main town of Rameshwaram. You can enjoy kayaking, glass bottom boats, banana rides, and more fun water sports here.
This is a perfect place to enjoy Rameshwaram with your friends and family. The best season to visit Rameshwaram to enjoy these water sports is October to March.
Are you planning to visit Rameshwaram and experience water sports? Book your accommodation in Rameshwaram at the Hotel Rameswaram Grand. Visit us!
Best Time to Go to Rameshwaram
Rameshwaram is a beautiful place with many historically significant sites. This island town has also evolved to attract millions of tourists every year.
Have you got plans to explore Rameshwaram? If so, plan your stay at decent and top-notch hotels in Rameshwaram. Book your rooms online or call us at +91 88254 66315.