What are the Outdoor Activities in Rameshwaram You Can Enjoy?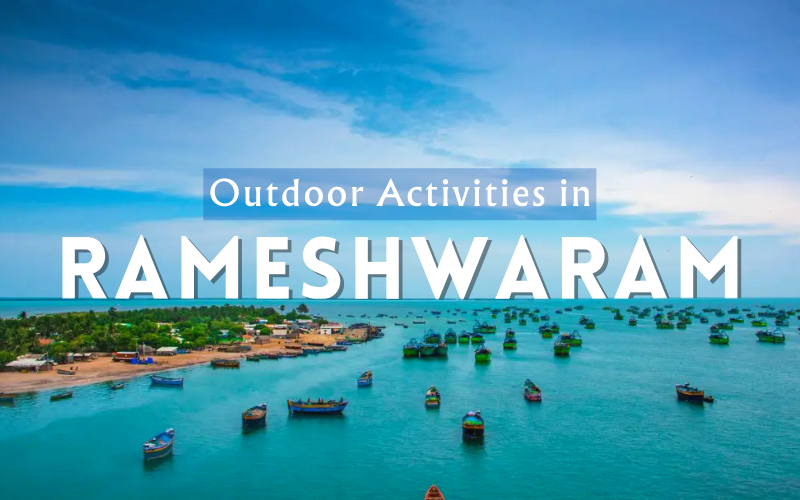 Rameshwaram is famous for the Ramanathaswamy Temple, believed to have been consecrated by Lord Rama. If you plan to visit the island city, there are plenty of things you can do besides visiting the temple. Read on to learn more about the outdoor activities in Rameshwaram.
Scuba Diving
The Gulf Of Mannar is one of Southeast Asia's first marine biosphere reserves. It is famous for its rich biodiversity, with over 4,000 marine species, ranging from dugongs to green sea turtles and humpback dolphins. A scuba diving adventure on the Gulf of Mannar is one of the best ways to explore the area's rich marine life. When booking a scuba diving adventure, we suggest you check if the instructor is PADI certified. But if you don't know scuba diving, you can always sign up for an introductory course and get certified. The price for a 2-hour shore dive ranges from INR 4,000 to INR 5,000, while boat diving costs around INR 6,500 for 3 hours.
You can also opt for an open water diver course to become a PADI-certified diver. This is a 4-day course where you will learn how to set up scuba diving equipment and all the necessary skills to become a trained diver. This course may set you back by INR 30,000, although a similar course could easily set you back by a few hundred dollars abroad.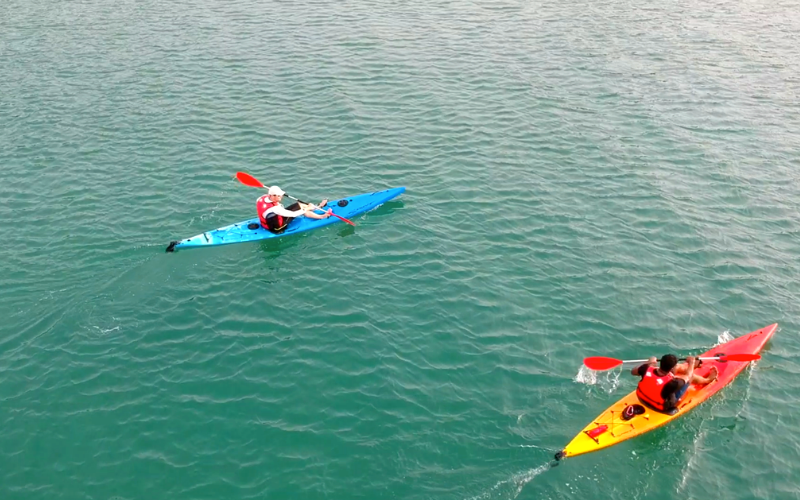 Glass Bottom Boat Tide
This is one of the best outdoor activities in Rameshwaram, suitable for all ages. As the name suggests, the ride involves riding on a boat with a transparent bottom. You can view through the glass bottom to enjoy the beautiful marine animals, including tropical fishes, corals, and marine plants. This is ideal for people who'd love to admire the marine animals without getting wet or those who cannot swim. The price for a typical glass bottom ride is around INR 2,000 per person and lasts for around 30 minutes to an hour.
Kitesurfing
Kitesurfing is a popular outdoor activity in Rameshwaram enjoyed on a wind-powered and modified surfboard with a specially designed kite fitted on the board for easy maneuvering. Don't worry if you don't know kitesurfing because you can always learn in Rameshwaram. With a strong wind that lasts almost 9 months a year, you can learn kitesurfing any time. A typical beginner's course lasting up to 4-5 hours could set you back by INR 15,000.
Standup Paddling
Standup boarding is a blend of surfing and kayaking and involves paddling on a board while standing. The clear blue waters and beautiful waves make Rameshwaram a perfect place to enjoy the sport. The best time to enjoy stand-up paddleboarding is from April to September on the island's North Coast and from December to March on the South Coast. You can also sign up for a basic certificate program to learn SUP for less than INR 2,000. Naturally, professional courses cost much more and require time and commitment.
Snorkeling
Anyone can learn snorkeling as long as they aren't scared of water. In fact, it is one of the most popular outdoor activities in Rameshwaram. The Palk Bay near Kathadi on the North East Coast is one of the best places for snorkeling. You can snorkel in shallow waters up to 2 meters with help from an instructor who will also help you enjoy the beautiful marine life, including octopuses, cuttlefishes, stingrays, hermit crabs, and pufferfishes. Or, you could also sign up for a basic snorkeling course where you'll learn the basics for 2 hours.
Since most of these activities are seasonal, we suggest you contact us to check if the sport is available during your visit. And if you're looking to book hotels in Rameshwaram, visit us.